Business Hours
Open Monday - Saturday
10:00 a.m. - 5:00 p.m.
And By Appointment
Closed On Sunday
Contact Us
Call: 831.899.9204 (Office)
Or: 831.224.9197 (Mobile)
Fax: 831.899.9206
E-mail: sales@salsautos.com
Our Location
1223-A Fremont Blvd.
Seaside, CA 93955

We are located in Seaside on the west side of Fremont Blvd. at Lopez Ave., between Harcourt and Hilby Avenues.

From Highway 1, exit at Canyon Del Rey Blvd. Go east at the end of the offramp. Continue across Del Monte Blvd. to Harcourt Ave., opposite Chili's. Turn left onto Harcourt Ave., then turn right onto Fremont Blvd. Sal's Auto Sales will be immediately on your right.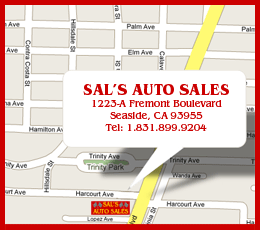 Click on the map above to view a larger map.